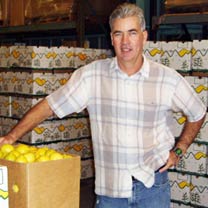 About Sunrise Farms
Sunrise Farms, Inc., formerly known as Rancho Santa Fe Citrus, Inc, dba M.K. Ranch, is located in Vista, California. The packing facility was established over 25 years ago to pack and market the fruit from 100 acres of citrus on M.K. Ranch. This effort began as a solution to poor returns from other large packing houses. As the packing operation continued to develop over the years, our grower base has increased to over 250, encompassing over 2,000 acres of citrus located as far north as Ventura County, south to Imperial County and east to the Coachella Valley. In addition, we farm our own Lemons and Valencia Oranges in Pauma Valley and Imperial County.
With Organic fruit currently offering the greatest profit potential for most growers, we are always available to assist in converting Conventional Orchards to Certified Organic. We are knowledgeable in the farming techniques and certification with the proper organizations to start the three year process of conversion.
Currently, Sunrise Farms is the only packing operation in Southern California with two separate packing lines: One for Certified Organic or non-chemical fruit, and a separate line for Conventionally grown fruit, making us an attractive option for Citrus growers who have both types of fruit.
Through our experience and commitment to the Citrus Industry, Sunrise has established a strong base of local, domestic and international trading partners. We also recently completed the certification process to ship Organic fruit to Japan. Other trading partners include Singapore, Korea, Taiwan, Hong Kong and Australia.
We ship to distributors, wholesalers and retailers throughout the U.S. and Canada. Our domestic labels include Sunrise Farms, Rancho Santa Fe Citrus, Santa Fe Valley, Twister, Natalie and JuJu Bee. We also pack under private labels to meet our customers' needs. Our ability to pack fruit in cartons, bags or tri-walls enables us to diversify products into different markets.